Product Rating:





Evaluation log | How Max Works | Other endorsements | Become a Sports Product Tester
Before I recommend a product to our members, I do a thorough personal evaluation. This product is excellent. You can use and endorse it without reservation.
I put TruAge Max to a real test.
I hiked the equivalent of going up
Mount Everest over 40 times...
That's right. To prove the effect of this product on my performance, on a series of hikes I logged 1.17 MILLION vertical feet.
Some other products used in this evaluation

Air Pegasus running shoes
Camelbak hydration pack
Clif original energy bars
Garmin GPS watches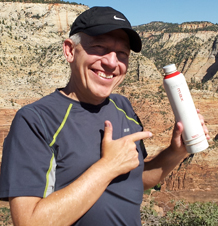 Hi. My name is Dru White.
I'm a sports product tester.
l endorse this product.
Finding 1 : Better oxygen uptake
Finding 2 : Increased stamina
Finding 3 : Ultra fast recovery
At 29,035 feet, Mount Everest is the world's highest mountain. I climbed that height multiple times in just a few months, thanks to the beneficial effect of a new sport product called MAX – yes, that's over 223 miles straight up.
For those of you who aren't into mountain sports, that's the same as climbing 117,000 floors in a building – that's floors, not steps. Thanks to this superb product, my enhanced oxygen uptake, endurance, and recovery enabled me to do it. The effect is impressive.
Test results as of NOV 30, 2017


Personal use of this product,

as a minimalist hiker & trail runner
Review rating:
Total gain
vertical feet
Total gain
vertical meters
Total gain
vertical miles
Total distance
miles
1,179,133
267,550
223
3,181
Browse some of my recent activities using this product: My test log
Actual video of some test activity for energy and stamina at 11,275 ft., with my brother Wayd.
As you might recall, I took this product for about four weeks as a guinea pig, back when it was still a "secret formula" at the Morinda labs. I didn't have a large enough sample then to give it a good test. So when they finally released MAX, I got right on it. It's a remarkable product. Here's how I've been evaluating it–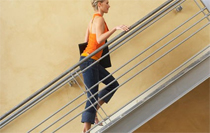 Methodology. A long time ago someone told me that going up and down stairs was good exercise. But since we only have one fight of stairs in our house, I took up hiking on the trails along the foothills not far from where we live. I've been doing that for several years, so I have a good feel for my ability and limitations.
I know that hiking is a personal thing, and many people don't care about it, let alone want to do it. But it's a good measuring stick so I'm going to use it to illustrate my findings.
Initial impressions. When I stared to use MAX regularly (about 1-2 ounces daily), I quickly noticed that I had a lot more energy. Before that, I used to go out for a trail run or short hike a couple of times a week. After starting MAX, my recovery period was greatly reduced. Pretty soon I wanted to go out more often, sometimes five or six days in a row. I also noticed that my outings were getting longer, and I was looking for steeper trails! That's was strange.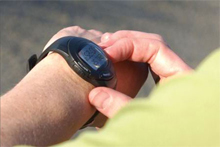 Tracking results. Just before Morinda launched MAX, I got a new GPS watch for my birthday. This has turned out to be a big help in tracking what this product has done for me. I started to keep a log of my activities (the watch keeps track of things like time, distance, elevation, heart rate, etc.). Garmin has a website where I upload the data, and I can generate reports. It tracks everything in minute detail. So I have very accurate record of what I'm doing. (Browse some of my recent activities: test log.)
Product effectiveness. Well, to make a long story short, I can't believe the phenomenal change I've experienced. I know it's a cliché to say that a product is life-changing. But that's exactly how I feel. Let me give you some examples–
You know how I told you that my hiking was getting a little longer, steeper, and more frequent? Well, this morning I ran a report of my GPS data. Since I've been taking MAX during the past few months, here's what's happened to two metrics:
(1) I've logged 5,119 kilometers of hiking and running (about 3,181 miles). I'm surprised how it's added up. But distance isn't the biggest factor. Elevation is. That's what makes climbing stairs so effective. It's NOT the distance from start to finish that's the telling factor – it's the vertical gain. That's what affects the intensity of the workout. Well, look at this...
(2) Since I started taking MAX, I've climbed 1,179,133 vertical feet. That's over 359,399 meters of elevation gain (about 223 miles straight up). To put that in perspective, that would be the equivalent of climbing Mount Everest, the tallest mountain in the world, about forty times from sea level.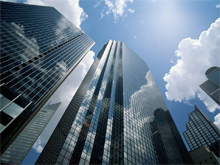 I know these numbers don't mean much to people who aren't into mountain climbing. But I think most people can relate personally to climbing a flight of stairs. If the elevator's out of order, and you have to climb ten flights of stairs in a tall building, that's a workout for most people. Well, what I've done with MAX is the same as climbing 117,000 flights of stairs (that's floors, not steps).
I'm not bragging. Heaven knows, there are countless ultra trail runners whose feats make my accomplishments look truly puny. I'm just a 65-year-old baby-boomer, with ten grandkids, slowly plugging away. But the point is, I'm shocked I'm able to do this at my age and still feel so energized. Inside of me, I know it's because of what I'm getting out of MAX.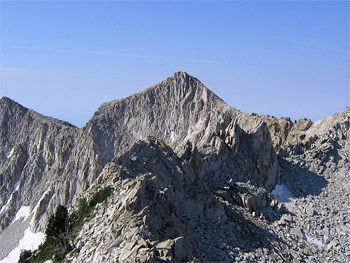 Random example. I recently hiked up South Thunder Mountain (11,154 feet) via Bell's Canyon in Draper. It's a pretty demanding climb (see Joseph Bullough's photo at right). Along the trail, I met a young guy in his early twenties who wanted to tag along. He was one of those fitness types who cycles and runs. He looked like he was in really good condition. Anyway, it was a strange experience. He kept up with me quite well until about three hours into the hike. At that point, he started falling behind. At 10,600 feet, after about 6,000 feet of elevation gain, he was beat and headed back down. I went on to the summit (another hour), and then ran a good portion of the way down. The hike turned out to be 14 miles round-trip. On the way down, I passed two other young guys who had been to the summit earlier. They had started hiking that morning two hours before I did.
Conclusion. I guess what I'm saying is, there's something to this product. Most people will never go on these kinds of hikes. But if MAX can do that for me, imagine what it could do for everyone else, in every sport. Of course, I'm preaching to the choir here – all you MAX drinkers know exactly what I'm talking about. (Check out feedback from some pro athletes at the left).
As you can probably tell, I'm excited about this. This is good stuff. It works.

Thanks for taking time to check out my update,
Dru White PSPT, IPC
Minimalist Hiker and Trail Runner
Join me – become a sports product tester
---
How Does MAX Work?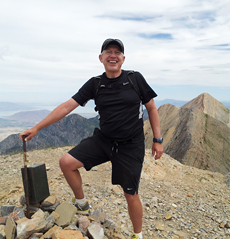 MAX is far more than an ordinary sports drink.
It's effect on performance
is truly remarkable.
But what makes this product so incredibly effective? What exactly is it doing in the body?
To satisfy my curiosity, I decided to dig deeper. I did more research and spent some time talking with researchers at the Morinda labs (including head scientists Jarakae Jensen and Brett West), and I think I'm beginning to understand what this product is doing.
Here's a summary of some of the proven effects of this patented formula–
Advanced glycation end-products (AGEs)

AGEs are destructive chemical compounds that form when surplus sugar molecules improperly combine with protein and lipid molecules. New research indicates that high levels of AGEs are a huge problem. They can damage your body and dramatically affect performance. In a short video from empowHER.com, Dr. Jonny Bowden explains AGEs in a simple way:

VIDEO
Effect on blood vessels (angiogenesis)
For me, this is a biggie. Initial research has found that certain compounds in MAX may help the body recognize abnormal blood vessels that are promoting unhealthy cell growth and inhibit the formation and continued growth of these abnormal vessels.
Circulatory function
The bioactives found in MAX naturally promote a healthy heart and circulatory system. Studies have shown that Morinda citrifolia extracts (a key ingredient found in Max) help improve blood fluidity by reducing total blood passage time. I think this is probably what contributes so much to the fast recovery times I've experienced.
Inflammatory response
Max naturally supports a healthy inflammatory response in the body. Its powerful blend of bioactives inhibits the production of enzymes associated with unhealthy inflammation, leading to overall improvements in inflammatory and joint problems.
Immune system
Multiple scientific studies have demonstrated the positive effects of Tr

ū

Age Max on the immune system. One study found that healthy adults who drank the bioactives found in MAX for two months experienced a 30% increase in natural killer cell activity, a major part of the immune system's first line of defense. This is something I've really noticed. I'm not getting sick.
Effect on free radicals
The iridoids in MAX are scientifically proven to be a superior source of antioxidants. They enhance utilization of glutathione—one of the major antioxidants manufactured by the body—and help it and other antioxidants function more effectively. We all know how important that is.
Brain function

Initial research shows that the bioactives in MAX may sustain healthy cognitive function by increasing antioxidant activity in the brain. Additional research shows that these bioactives also exhibit a significant increase in both short-term and long-term memory, help improve cerebral blood flow, and elevate synaptophysin levels in the brain, which has been shown to improve learning and memory abilities.

Energy and endurance
Max has been shown to boost both energy and endurance naturally and without the harmful side effects associated with energy drinks and caffeine. The energy-enhancing benefit of the bioactives in Max was demonstrated in a clinical trial involving 40 highly trained long distance runners. After three weeks, athletes had an average increase of 21% in endurance.
Those are a lot of benefits coming out of one product.
I've never seen anything like it.
Cardio-vascular effects. Still, for me the bottom line is cardio. I've learned that many of the above benefits relate directly to circulation and blood vessel function. Of course, that should be of high interest to athletes and anyone with an active lifestyle. Because, ultimately...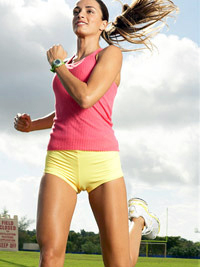 When the circulatory system is working right, all kinds of good things happen.

Superior oxygen uptake

Increased stamina

Faster recovery

Better mobility

More energy

Stronger immune system
I can mention some other big pluses–
Stronger bones • less inflammation and pain • normalized cholesterol and blood sugar • better brain and nerve function • improved memory and mental alertness • healthier organ function.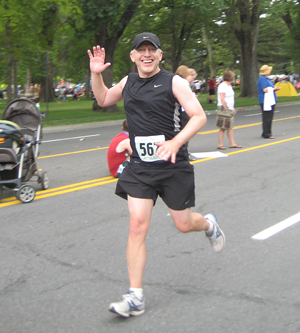 In short, good circulation lets you eat better, sleep better, and just perform better all around. I'm sure that's what's been happening to me these past few months. And I've got to say, it's wonderful.
In my opinion, the benefits of this product have extremely important implications, not only for athletes but for the health of our society in general. We need to make people aware of it. If we do, they'll better understand what MAX does and how it can benefit them. And we'll be helping in an active way to solve a major problem in today's world.
Hope you enjoyed my review. I invite you to join me and become a professional sports product tester.
Other Recent Tests and Endorsements
By Dru White
Nike Air Pegasus+ 29 running shoe

This is still a very good shoe for straight running on relatively flat surfaces. However, for mixed use on trails and rougher terrain, it's definitely a step down from the model 28. Even though it's a tad lighter, they changed the tread design so it's less grippy for lateral movements. Also, the tongue is only sewn at the base so there's a little less firmness across the top of the forefoot. Feels like there's a little less cushioning on the anterior heel. I like it a much less than the models 28 and 27. About $100.


Fair

North Face eTip gloves

This glove is handy if you're using a touch-screen phone in cooler weather. Someone came up with the idea to create "conduction" fingertips that allow you to navigate onscreen without taking your gloves off. And it works well. The fingers are a bit long and the materials is a bit too light for really chilly conditions. But overall, does what it's supposed to. About $45.


Very Good

Kahtoola Microspikes

If you hike or run in icy conditions, this is the product for you. For conditions requiring less than a full-blown crampon, these spikes are an excellent choice. I've put them through some brutal episodes, and they've performed perfectly. Easy to put on and take off, highly durable, grips extremely well even on hard clear ice. About $59.


Excellent

Garmin Forerunner 910XT GPS watch

This multi-mode GPS watch tracks over 50 metrics, including speed, distance, elevation, and heart rate, among others. Also includes swim and cycling metrics. You can view up to 16 metrics as the screen toggles automatically. I got it originally because of the long 20-hour battery life (my other watch kept going dead on longer hikes). It does have a bit of a learning curve–definitely not a strap-on and go model. Also, had to upgrade the firmware once which was a bit of a hassle. Overall though, a great top-of-the-line watch. Wireless data uploading. Recharges via USB. With optional heart rate monitor. About $449.


Very Good

Clif Original Energy Bar

This bar is made of whole foods and contains about 70% organic ingredients. A fairly good source of protein and fiber. Has 23 vitamins and minerals, and no trans fat. A little heavy on the sugar, but okay for high exertion activities. Well packaged for rough conditions, yet easy to open. Comes in 17 standard flavors, including such off-beat choices as carrot cake and white chocolate macadamia. Weighs 68 grams per bar. Box of 12 bars. About $15.


Very Good

Thorlo micro mini-crew running socks

I've tried a lot of socks over the years, and the Thorlo brand is by far the best I've found. As a minimalist, I prefer the mini-crew just because I think less is better. But all their socks get the job done. They really protect the feet, give extra padding, and control moisture very well. Never had any issues with chafing or blisters, even when saturated. They're very durable under harsh conditions. Highly recommend. About $14.


Excellent

GoPro Hero sports cam

This is one rugged camera. Great for capturing video or stills in the midst of the action. Can be mounted on head, chest, handlebars, etc. Comes with waterproof case for wet and underwater conditions. Comes in various models suited to your activity. The Outdoor Edition features 11 megapixel sensor, low-light performance, 170 degree FOV, 1080p video, and 30-120 fsp. Battery life about 2.5 hours. Recharge via USB. About $280.


Excellent

Signagel electrode gel

I use a light amount of this gel on the contacts of my Garmin wireless heart rate monitor. It's an excellent conductor even after long periods under very dry, higher altitude conditions. It's smooth to apply. Made of a water-soluble solution. Clean up is a breeze, and it doesn't leave spots or stain apparel. Hypoallergenic and bacteriostatic. Comes in a handy transparent stand-up tube so it's easy to see how much is left. About $12.


Excellent

Nike Dri Fit running apparel

I really like the Nike Dri Fit fabrics. I tried quite a number of their shirts, shorts, and hats. This fabric goes beyond typical moisture wicking material. It moves moisture to a fabric layer away from the skin, so the skin stays more protected, comfortable, and cool. It's made from 62 percent cotton, 34 percent polyester and 4 percent spandex. I can really feel the difference when it's worn next to the skin. About $38-$75.


Excellent

Morinda Original Bioactive Formula

I used a lot of this product before Morinda formulated MAX. It contains a unique blend of iridoid compounds, all naturally sourced, that boost energy, strengthen the immune system, and relieve discomfort. It also helps with digestion, muscle fatigue, and inflammation. Backed by extensive scientific research, including multiple human clinical studies. Should consume 1-2 ounces daily. About $23.




Excellent

Nike Air Pegasus+ 28 running shoe

Nike finally got the Air Pegasus shoes back on track with model 27. And model 28 was an improvement on that. Very comfortable, excellent cushioning, breathable, and wonderfully grippy tread. The mid-sole compresses with moderate rapidity, but isn't bad considering the pounding I usually give shoes. Plenty of room in the toe box, and I like the fly-wire support across the instep and the tongue sewn up both sides. Overall, a great shoe. About $100.




Excellent

Nike Dri Fit feather light cap

What can you say about a sports cap? A hat's a hat, right? Well, almost. This hat is not only made of Nike's exclusive Dri Fit fabric, it's by far the lightest head covering I've ever tried. As a minimalist, I can go for that. Once you put this thing on, you don't even know it's there. Stays on in the wind and during demanding maneuvers but doesn't squeeze the head. Easy adjust strap in back. I like this hat so much, I have two of them. About $27.




Excellent

Coppertone Sport SPF 50

A word of warning: try not to get this stuff in your eyes. If you do, it really irritates. (Easy to remedy with soap and water.) Otherwise, as a broad-spectrum sunscreen protecting again both UVA and UVB, this product performs well. I've had no problems with sunburn or skin irritation, even after 10 hours or more without reapplication, even under harsh conditions. New labeling laws no longer allow the "ultra sweat proof" claim. But it still does the job whether it says so on the container or not. About $8.




Very Good
Become a Sports Product Tester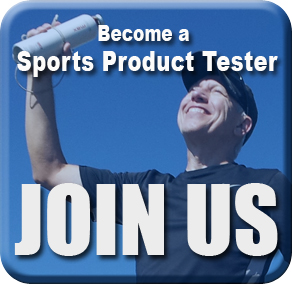 Home • Guide • Featured • FAQ • Join Us • Test Log • Group Log • Terms of Use & Privacy • Contact
© 2012-17 Coconut Enterprises, LLC. All rights reserved.
Independent Product Consultant for Morinda, Inc.
Coconut Group® International is a registered trademark of Coconut Enterprises, LLC.
Products disclaimer: The consumable products featured on this web site have not been evaluated by the FDA and are not intended to diagnose, treat, cure or prevent disease. Income disclaimer: Any representations of income or earnings are for illustration purposes only. Your actual income will vary depending on your activity level, skill, diligence, location, and many other factors. The statements on this web site do not constitute any type of guarantee, promise, or projection of your future earnings.